Sci-Fi Character Portraits PHASE 2
A downloadable asset pack
WHAT IS "SFCP PHASE 2"?
A collection of +120 character portraits for your TTRPG online or on person game sessions.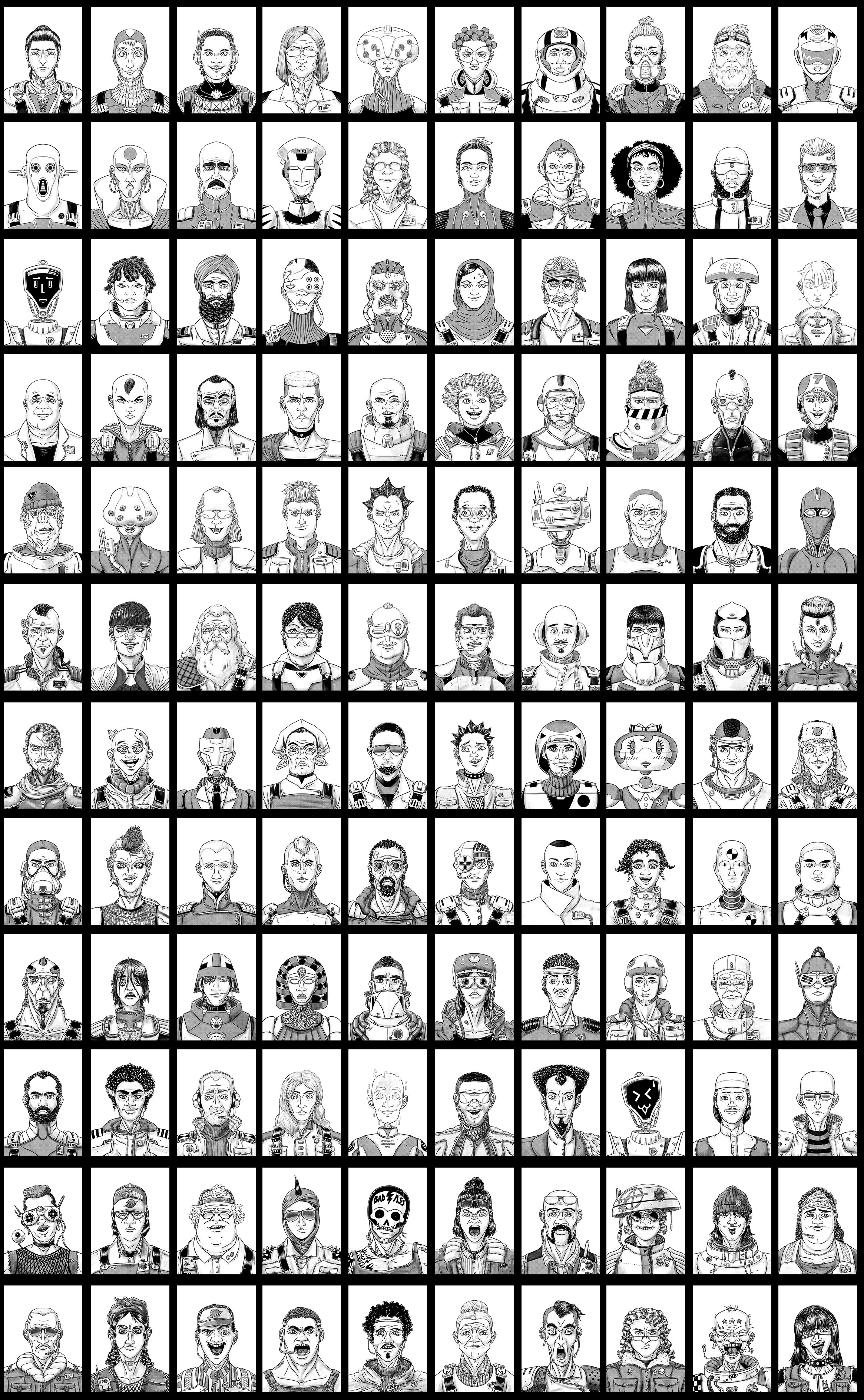 Usable with any sci-fi game like Mothership, Traveller, Death Among the Stars, Night Tripper, Lancer RPG, Aliens, Infinity, Mechwarrior or whatever your favourite setting or game is!
Curated to have a diverse cast of portraits of different age, constitution, ethnic background, hairstyles, attitudes and levels of accessorizing! And also androids?
Each portrait come in FIVE different versions:

Plain Line-art: Perfect for printing and coloring in your table or coloring digitally.
With screen-tones: A slightly more sophisticated version reminiscent of printed media like manga or black & white comics.
With screen-tones + Grey background: A fancier version of the above.
With screen-tones + Color background: The screen-toned version with colorful pop-art colors.
Old TV set: In cassette-futures there is no such thing as high definition transmissions!
MORE THAN FIVE HUNDRED FILES just in the SFCP 2 pack!!!
Individual files are 889x1200 high quality PNG 300 dpi.
THIS WORK IS RELEASED UNDER THIS LICENSE:

CC BY-NC 4.0
Purchase
In order to download this asset pack you must purchase it at or above the minimum price of 25.00€ EUR. You will get access to the following files:
SCI-FI CHARACTER PORTRAITS PHASE 2.rar
248 MB
SFCP 1 New Styles UPDATE.rar
227 MB
Final SFCP 1 Update.rar
46 MB
Comments
Log in with itch.io to leave a comment.
Is there a commercial license available
Any plans on adding some alien portraits?
Maybe in the next pack. Also, I would ask the community first for ideas about what kinds of aliens would they like to see.
My idea is, if I go ahead and include them with the next pack, to begging with Traveller aliens. But any suggestions will be welcomed!
cool beans, look forward to seeing them. I would go for some full on generic aliens. Space elves, squid faces, cat man, rock man, frog man, lizard man your classic 'greys' stuff like that.
Congratulations on these outstanding portraits!
We would love to be able to work with you on a board game project we have. We've DM'd you via Twitter about that :)
Don't hesitate to get back to us.
Again, wonderful art.
Thank you!
These are very helpful for so many SF games.
Thanks again and great work !
This pack will work great for my next Frontier Setting !
Fan letter from South Korea. Your works are amazing:)
The April 15th and April 22nd update appear to be the same file when downloaded - Anyone else? Or am I being even dimmer than usual?
Theoretically are different , check twice. If problems persist telle me and I will upload a single file with all the portraits.
Yeah - it was me being dim, or more correctly it was a glitch in the archive extractor I was using on my Mac for the RAR files. Brilliant artwork - can't wait to see more, my players loved your original set when we played Mothership. They fit the bill perfectly.
Nice. I got the first pack a while ago, so nice to see more!
Love it, fantastic resource.